Description
Wheels for the mind, an extremely rare collector.
According to legend, Steve Jobs described the computer as a bicycle for our mind. It is said that Jobs initially wanted to name the Macintosh computer Bicycle. Jobs finally lost this battle and the computer that was then developing was called Macintosh. For the design, it was the Belgian artist Jean-Michel Folon who was chosen but Steve Jobs changed his mind and finally decided to entrust the design of the Mac visual identity (known as the Picasso logo, but inspired by the painter Matisse) to Tom Hugues and John Cassado, the artistic directors of the Mac development team.
The concept of a bicycle for the mind was not abandoned. It was chosen to illustrate the Apple University Consortium (AUC) program called Wheels for the mind. The logo, designed by Clement Mok, represents a cyclist carrying a Mac and his mouse.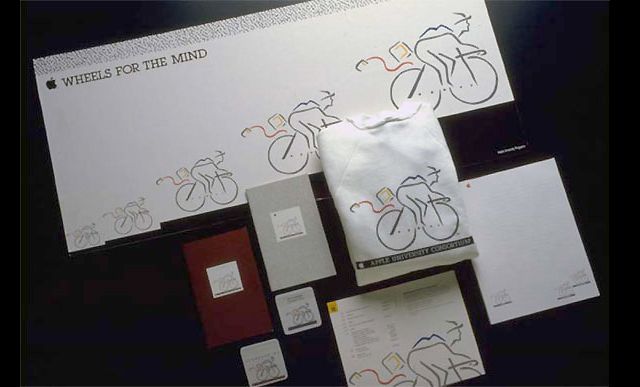 A range of goodies featuring the logo has been developed by Apple University Consortium to support the Wheels for the Mind program. T-shirts, mouse pads, mugs, notepads and … This lapel pin we offer today. From collector's memory, this is one of the rarest lapel pin that we could offer for sale on our shop. Of course, we only have one copy available for sale. Once this copy sold, we will not see another one again for a long time.
This lapel pin is extremely rare. It measures approximately 17mm by 17mm (0,67 inch by 0,67 inch) and bears the mention Wheels for the mind, the bicycle logo and in the lower part the Apple logo and the mention Apple University Consortium.
This lapel pin is a real true collector, an extremely hard to find collector and would take a #1 place in your valuable collection. See photo for more details.
dim. 17mm x 17mm (0,67in x 0,67in)
This is a 5 Mac ranking, extremely rare collectible. We have only 1 of this lapel pin in stock, so don't wait !
Le Collector ranking